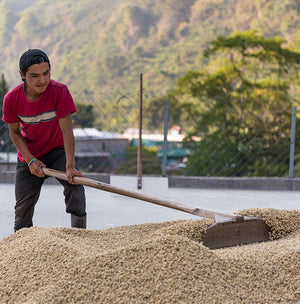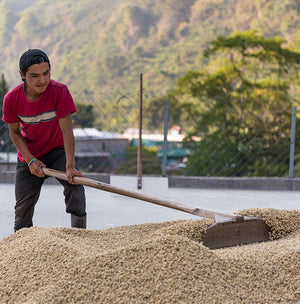 On Sale
La Esperanza Washed, Guatemala
A beautiful coffee from Huehuetenango, Guatemala, with seriously lovely acidity that reminds us of yellow plums, big sweet notes of honeycomb and gentle florality like vanilla. This is a stunning coffee and great for all day drinking. And we're super glad to have this return for a second time to our line up!

Process
Fully washed
Varietals
Caturra & Bourbon

Altitude
1600 - 1750m.a.s.l.
Tasting notes
Yellow Plum - Honeycomb - Vanilla
This story goes back over 50 years, to when Don Eleodoro would travel 4 days by foot to buy coffee cherry from a farm, and then walk 5 days back to sell the coffee to a mill.
Once he realised it was a viable business, he bought Finca La Esperanza in 1953. Aurelio, one of Eleodoro's sons, grew up helping his father on the farm and upon Don Eleodoro's recent passing, has taken over management.
Aurelio has worked hard and dedicated his time to producing high quality coffee which has earned him many national and international awards. His farm has competed in the Cup of Excellence four times and he has been awarded by Illy the titles of Best Farmer in Guatemala and Best Farmer in Huehuetenango.
The carbon footprint from this coffee's journey has been offset twice.
This includes boiling your kettle to brew it.
The packaging is biodegradable and recyclable.
Bike delivery or postage is included.
One love.